I could be, slightly, considered a pack-rat. I constantly struggle to control it. My husband makes me watch the show, Hoarders, with him. A not so subtle hint, I'm sure! 😉
Three weeks into a new year and I can't concentrate on anything I planned on doing! All of that wonderful planning we did over the past two weeks is staring me in the face and all I can see is clutter. Therefore, plans have changed. My third (and possibly fourth) week will be dedicated to organization.
A place for everything and everything in its place. No problem on the first point. The latter, keeping things in their place, is the problem. It seems like just as I get everything in its place….I turn around and find half of them out again! Not to mention the projects I have going on here and there all the time. He he he
---

The Obstacle in our Path

There once was a very wealthy and curious king. This king had a huge boulder placed in the middle of a road. Then he hid nearby to see if anyone would try to remove the gigantic rock from the road.

The first people to pass by were some of the king's wealthiest merchants and courtiers. Rather than moving it, they simply walked around it. A few loudly blamed the King for not maintaining the roads. Not one of them tried to move the boulder.

Finally, a peasant came along. His arms were full of vegetables. When he got near the boulder, rather than simply walking around it as the others had, the peasant put down his load and tried to move the stone to the side of the road. It took a lot of effort but he finally succeeded.

The peasant gathered up his load and was ready to go on his way when he say a purse lying in the road where the boulder had been. The peasant opened the purse. The purse was stuffed full of gold coins and a note from the king. The king's note said the purse's gold was a reward for moving the boulder from the road.

The king showed the peasant what many of us never understand: every obstacle presents an opportunity to improve our condition.

—————————

Author: unknown

Source: www.livin3.com

Photo Credit: pixabay.com
---
Looking for Gold Under This Clutter
As much as I would LOVE it, I'm sure I won't find a lovely note from a king, with a bag of money, hidden under the clutter in my home. Or will I??
Probably not.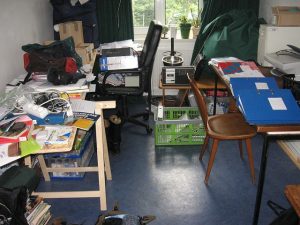 Here's what I did find though: (1) my sanity, (2) my productivity, and (3) my children. No, no. Just kidding! My children weren't under my clutter (they have clutter of their own!)
My sanity and productivity, however, were being held hostage by the clutter in my home. Sitting down to work, playing a game with the kids, or having a conversation with hubby, every time, my eyes would involuntarily move across the room and my brain would hiccup. Must. Pick up. Stuff.
Must. Find. Gold.
Over the years I have tried many organization hacks, tracks, and challenges. If you search on Pinterest, you are sure to find all sorts of binders, planners, checklists, systems, and hacks for organization. I am going to list a few that I have found extremely helpful over the years and have cobbled together into my own "system."
Organized Home
OrganizedHome.Com: Clean House, Cut Clutter and Get Organized at Home!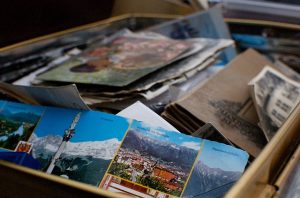 I start with this one because it is my favorite. I found Organized Home when I was looking for holiday planners. My introduction began through Organized Christmas, which provides a holiday planner guide starting in late summer/early fall. I loved their Christmas Planner so much that I moved on to their Organized Home website and found another true goldmine!
The organization section on Organized Home has a very simple, easy manage decluttering technique. I have followed this process several times in the past and it never steers me wrong! You can find the post here. While you are there, look around a bit. You may be surprised what you find!
Storage Plan, Organized Home's solution:
Access. Walk around your house with a list and take note of every nook and cranny you have available for storage. Create a second list that includes everything that needs to be stored.
Box and Banish. Choosing one storage space at a time, clear out anything currently occupying the space and sort it into boxes. Keep, donate/garage sale, and banish.
Corral and Control. Now you can assess what is left that needs to be stored and purchase (or find!) the storage containers of the appropriate size and shape. I list of each storage area and its contents will help you keep your efforts up throughout the year.
Club Organized and S.H.E.
Club Organized: The Sidetracked Home Executive
SHE is an organizational system that has been around since the 1970's. It was started by a pair of sisters that organized their daily and weekly tasks on index cards. This is what their website has to share:
"Get Organized Just Enough to Please You.

Getting organized never got easier. The 3×5 get organized system is back and it's better than ever. Welcome to the new home for SHEs (Sidetracked Home Executive) and New York Times best-selling author Pam Young. Pam's first book, written with her sister Peggy Jones,  Sidetracked Home Executives: from pigpen to paradise, has sold more than 1.5 million copies. With that book, she and her sister became known as the "Slob Sisters" and appeared on People Are Talking starring Oprah Winfrey, The Today Show, Live with Regis, CBS Morning Show, Phil Donahue, Geraldo and many other popular television shows throughout the country. Their revolutionary system for home management has been successful for millions, including Flylady."
FLYlady
FLYlady is a third highly informative website dedicated to organization and running a smooth household. This site includes link, printables and even an app to help you on your way. Find out more here. From their website:
"What is FlyLady?
Are YOU living in CHAOS (Can't Have Anyone Over Syndrome) like Franny in the pink sweats? Do you feel overwhelmed, overextended, and overdrawn? Hopeless and you don't know where to start? Don't worry friend, we've been there, too.

Step through the door and follow FlyLady as she weaves her way through housecleaning and organizing tips with homespun humor, daily musings about life and love, the Sidetracked Home Executives (SHE) system, and anything else that is on her mind."
What is YOUR favorite way to declutter and organize your spaces?