365D2ME: Where'd ya go? And Whatcha Doin' Now?
Posted On May 31, 2018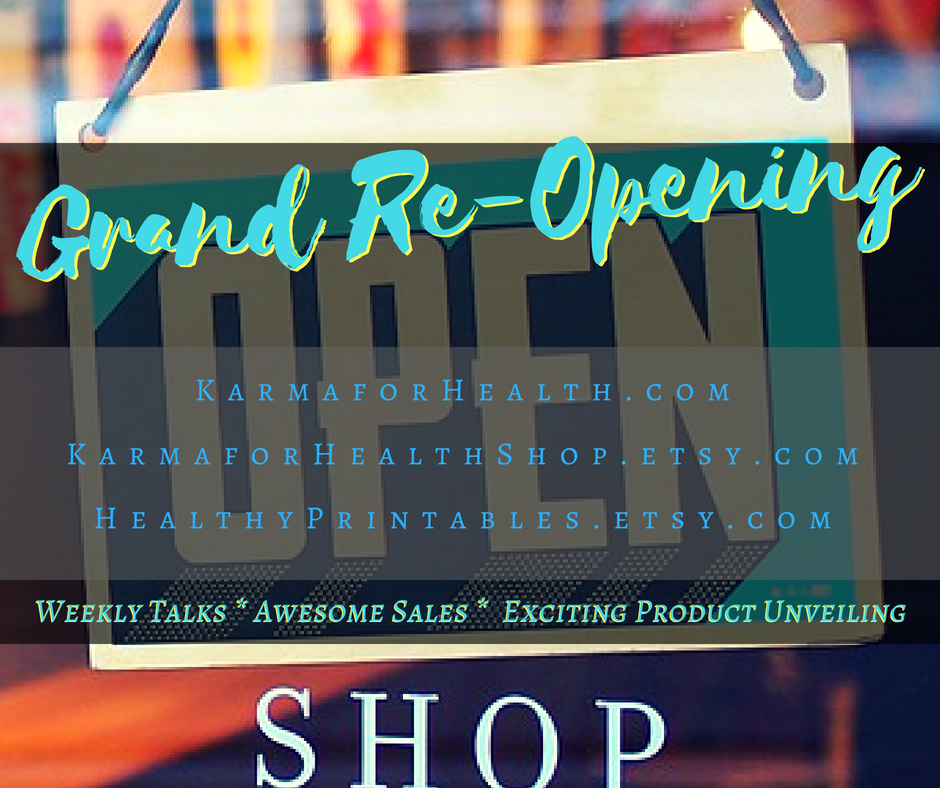 Well, I feel a bit silly. I started the year so strong. I dedicated myself to "365 Days to a Better Me" and promised to drag you along with me. Then, a month in, I disappear. For this I am incredibly sorry!
No, aliens did not abduct me.
Unfortunately, I didn't win the lottery and move to a remote island somewhere far away without internet service.
The actual story is a lot less dramatic. Life. Life happened. The universe jumped in and said, "I see your intention and raise you a calamity."
My family found ourselves in the middle of a mini housing crisis that ultimately ended well, but left me preoccupied (to say the least) for a couple of months.
Now we are half way through the year and I've come crawling back to beg for another chance.
I Return with Gifts of Self Care and Self Love
Although my time for Karma for Health and my Etsy shops may have suffered, but my dedication to improving myself has gained momentum. The mind, body, and spirit definitely need some TLC when you're faced with a crisis! This crisis reminded me of the importance of flexibility…and the importance of self care.
It's an ongoing process, learning and embracing the act of self care. Therefore, I will pick up "365 Days to a Better Me" right where I left off. Tomorrow is the Grand Re-Opening of KarmaforHealth.com, Karma for Health Shop on Etsy, and Healthy Printables on Etsy – with a focus on self care. Because #SelfCareisSelfLove
Whether facing temporary chaos or grappling with the daily grind, we all have to take time to take care of ourselves. We are busy. We have places to be, things to do, and people to care for. It's hard to find the time to nourish ourselves too – but we must!
We cannot truly care for those in our lives when we are lacking the same care ourselves. So – we must fill up our cups first. We must put on our oxygen mask so that we can help others with theirs.
It's a process. No one can make these changes overnight, and what fun would it be to do it alone? So, I propose we take this journey together. Let's LEARN how to love ourselves. Let's LIVE the story we want the world to hear. Let's SHARE the adventure.
Let's LEARN how to love ourselves. Let's LIVE the story we want the world to hear. Let's SHARE the adventure for more fun. #SelfCareisSelfLove
Click To Tweet
Reinvented, Reopened, and Ready to Rock Your World
All of that being said, we have BIG plans for our Grand Re-Opening!
Listen as I discuss self care LIVE on Facebook every Friday for the month of June. I'll describe my journey so far and take you on a tour of my personal self care routine. I'll also show you how you can easily incorporate self care into your daily routine as well. I'll help you knock out exhaustion, stress, and discomfort.
Take advantage of the weekly sales in the Karma for Health Shop on Etsy. Each week I'll be releasing a new and/or improved collection that will be on sale for 25% OFF during that week only. Karma for Health Shop offers natural solutions for self care that will make it even easier for you to start your own routine. Want to make your own products at home? I can help with that too!
Finally, the Karma for Self Care Kit will pre-launch during the Grand Re-Opening. The Karma for Self Care Kit is a monthly, themed bundle of ready-made tips, tricks, and recipes for self care. Anyone care do it, it's easy. Fits into the busiest schedule with ease. Become a founding member – earn a chance to win a FREE LIFETIME subscription and help shape the final Karma for Self Care Kit.
GRAND RE-OPENING: @KarmaforHealth2 promoting #SelfCareisSelfLove A month of weekly talks, awesome sales, and brand new, and improved, products
Click To Tweet