*BONUS* 365d2ME: Week 3 – Home Inventory
Posted On January 21, 2018
As I was assessing, boxing and banishing, and corralling and controlling my house this week I realized that I could check off another box on my "To-Do & To-Learn" list at the same time. Home inventory.
Home inventorying could be a pack rat's worst nightmare. So why do it to ourselves, right? Well, would you believe me if I told you it was a liberating experience? Now, when hubby says, "I bet you don't know half of what's in your collection." I can say, with confidence, "yes I do!"
Oh, and it'll help in case of emergencies too, of course. 😉
---

ALWAYS BE PREPARED FOR THE WORST

Once a fox was roaming around in a forest looking for food. Suddenly, he saw a pig rubbing his tusks against the trunk of a tree.

The fox looked about carefully but couldn't see any danger for the pig anywhere. Despite being so clever, he couldn't understand why, the pig was doing that.

He couldn't control himself, went to the pig and asked, "The hunters are not out today, nor can I see any other danger, then why are you doing that?"

The pig replied, "Dear! We live in a forest where enemies are there at every step. Who knows when I'll have to face them and use my tusks against them? So, if I don't do it now, I may not get time to sharpen my tusks when I need them the most."

This story teaches us that always be ready for the bad times to come.
—————————
Author: unknown
Source: www.kidsfront.com
Photo Credit: pixabay.com
---
Why Should I Do a Home Inventory?
Could you tell me everything you have in your home right now? How about purchase dates, models, and serial numbers of each of these items?
Probably not.
Could you recall these same details after a disaster or tragedy has just struck you and/or your family? Would you even want to think about such trivial things?
Probably not.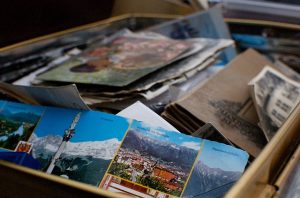 Creating a home inventory guarantees that you are prepared to deal with potential losses, especially when dealing with insurance coverage. Your claims will be processed faster and you will maximize your reimbursements, if you provide a detail listed of the affected items.
In fact, you must provide documented proof of ownership to receive a full settlement. The National Association of Public Insurance Adjusters states that most policyholders do not realize that the burden of proof rests with them.
A complete home inventory will give you the best idea of the value of your possessions, which allows you to choose the appropriate insurance coverage and determine if you need additional coverage for unique items. It can also increase the value of your home by documenting significant home improvement projects and updates.
In addition, a home inventory comes in handy with estate and financial planning as well. It will aid in creating and maintaining a will, as well as simplifying the probate process. Financially, a home inventory could prove useful for determining your net worth and in obtaining a loan.
What Should I Put in a Home Inventory?
Everything.
The more information you can include about each item, the better. Consider taking photos and/or doing a video home inventory to complete the picture. These will not only provide proof of ownership, but also document the physical condition of your belongings.
Each item should include as much of the following as possible:
Description
Model
Serial number
Cost
Purchase date
Manufacturer
Photos and video footage
Heir designation
Estimated or appraised replacement value
Scans of receipts and important documents
How Do I Create a Home Inventory?
There are plenty of ways to complete your home inventory, each with their pros and cons. You can hire someone to do it for you, or you can do it yourself with a pre-made document or app. Below are some suggestions:
Hire a Contractor
Hiring a professional home inventory specialist may cost you some money. However, besides getting your home a little more organized, there are a number of benefits that a professional home inventory service provides. Here is a look at several:
Protects You, and Your Insurance Company – A professional home inventory is actually recommended by insurance providers so that you can definitively prove ownership of your belongings when making a claim. This protects you, as well as the insurance company.
Time Savings – Hiring a professional home inventory service will save you a significant amount of time while delivering a significant amount of peace of mind.
Valuation Services – By taking the extra step of valuing items, you will get to know the real market value of all that you own.
Meet Your State's Insurance Requirements – Insurance companies in some states may require not only a list of items, but descriptions, receipts, images and other proof of ownership to ensure full compensation in a claim.
Security – A reputable professional will provide you with secure offsite storage of the information related to your home inventory, giving you peace of mind in case of an unexpected event.
Use Technology
A simple pencil and paper will suffice, but technology can make creating a home inventory much easier.
Take pictures – Create a photo record of your belongings. Capture important individual items as well as entire rooms, closets or drawers. Label your photos with what's pictured, where you bought it, the make or model—whatever information might be important to replacing and/or getting reimbursed for the item. Use your smartphone or digital camera—some give you the capability to put in the description of the item when saving the photo.
Tape it – Walk through your house or apartment videotaping and describing the contents. For example, you might describe the contents of a kitchen cabinet: "Poppies on Blue by Lenox, service for 12 that includes a dinner plate, salad plate, bowl, cup and saucer. Purchased in 2015."
Use an app – There are many mobile app options that can help you create and store a room-by-room record of your belongings.
Microsoft Office – Word, Excel, and Access each have templates for home inventories built in. There are also many other Office templates available through a quick online search.
Have YOU completed a home inventory lately? What were your methods?